Abstract Submission
Please follow the below instructions to submit an abstract for the Emerging Ideas in Biomedical Research. Remember that abstracts are due by January 8, 2016 by midnight.

Please direct all questions to byubmec@gmail.com


Step 1: Register
Start at this page
If you do have a journal username and password with OpenSource journal at BYU, you can log on now.
Otherwise click the "Not a user? Register with this site" link.
When filling in the blanks on the registration page, please use a valid email adress so that we can contact you about important conference information. Also, be sure to click the "Author" check box at the bottom of the registration form.
After pressing register, you should see your homepage that looks something like the following image.

Step 2: Submission
Once you have registered for the Emerging Ideas in Biomedical Research, you can submit an abstract by first clicking the "Author" link from the "User Home" page.
If you have not submitted an abstract, no submissions will appear on the "Active Submissions" page.
To submit a new abstract, click the link under the "Start a New Submission" headline. See image below.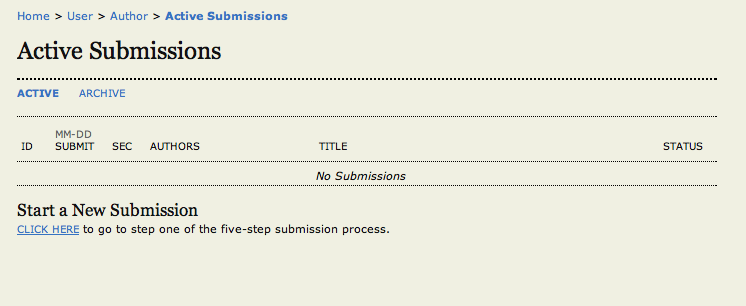 Follow the 5 steps in order to complete an abstract submission. Below are some tips so that your abstract can be submitted and accepted with minimal problems
Submit Abstracts to the "Articles" section of the journal
The title you enter in step 2 will appear in the conference proceedings.
Enter your abstract in step 2. This will also appear in the conference proceedings. Please keep abstracts to 500 words or less.
If you would rather attach your abstract as a word document, please type: "See submission file" into the abstract field. Note that you can submit files for upload in step 3.
If you choose to type or copy and paste your abstract directly into the abstract field, you will be warned that you have not uploaded a file when proceeding from step 3. You can accept the warning to continue to step 4. If we notice that there is no abstract attached, we will do our best to contact researchers so that we can fix the mistake.
No supplementary files are necessary.
After finishing step 5, you should see the following confirmation page.
By clicking on "Active Submissions," you can see your newly posted abstract.

Step 3: Notification of Acceptance
We will notify you of your abstract's acceptance no later than October 22nd.
Questions?